Traditional Chinese Medicine (TCM) has practiced acupuncture for three millennia, and now alternative medical therapies like acupuncture are on the rise in the United States. Through the use of fine, sterile needles at acupoints along twelve meridians, acupuncture improves the balance and flow of energy in your body through clearing energy blockages.
The philosophy behind acupuncture emphasizes universal yin and yang, two opposing forces that must be kept in balance within each human body. The acupuncture philosophy holds that the mind and body are inextricable from each other, where thoughts and emotions of the mind can drive physiological responses, impacting emotional and physical health.
So is acupuncture right for you? See these five ways that acupuncture can boost your overall well-being to decide for yourself if you're ready to give it a try!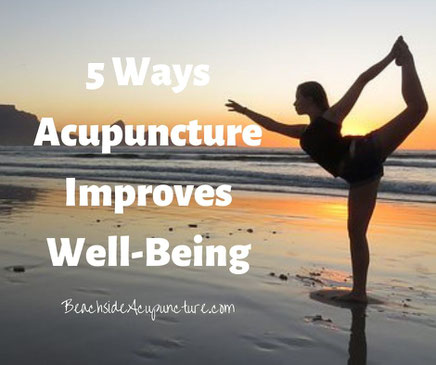 1. Reduces Inflammation
Acupuncture has been shown to significantly reduce inflammation related to a number of conditions, including sepsis, rheumatoid arthritis, osteoarthritis, and Crohn's disease. Acupuncture makes this happen through targeting 'trigger points,' which are painful tender points.
It is said that acupuncture may also work on inflammation through causing the pituitary gland to release cortisol, which reduces inflammation. Acupuncture also stimulates the vagus nerve which in turn activates body mechanisms that reduce inflammation.
Research also shows that acupuncture helps regulate a proinflammatory chemical which leads to anti-inflammatory responses. In fact, researchers have even successfully mapped neural pathways that demonstrate how acupuncture makes a difference.
2.  Improves Digestion
Acupuncture can help with a number of digestive disorders, including, but not limited to, heartburn, lactose intolerance, irritable bowel syndrome, and gastrointestinal tract bleeding. Quite simply, acupuncture improves digestive functions, reduces inflammation of the stomach and pancreas, and nourishes related organs. In fact, the World Health Organization recognizes acupuncture for being an effective means to treat digestive imbalance that causes us problems.
3. Sleep Better
Acupuncture can help you sleep in a multitude of ways. For one, it helps you navigate one of the biggest roadblocks in the way of a good night's rest by helping you heal your pain that keeps you up at night. Acupuncture also helps treat advanced sleep disorders like insomnia and sleep apnea.
Acupuncture is different than other remedies, as it targets the root of the problem instead of just treating symptoms. This treatment helps regulate the physiology of your body, including neurotransmitters responsible for keeping you awake. It aims to restore your sleeping health through a reduction of stress and leaving you with a sense of calm and wellbeing, all through restoring systematic balance to your mind-body connection.
4. Prevent Current and Future Injuries
Acupuncture is an effective way to both treat injuries and prevent future ones. Acupuncture was first used to treat injuries incurred in the martial arts, but now acupuncture is even used by professional sports teams in the United States.
Acupuncture can be used to treat acute injuries and also chronic ones. Acupuncture points can be used to address the injury and associated pain, in order to restore harmony to the body. Through treating the deeper muscle tissues in the skin, which are the source of injury-related pain, acupuncture can make a lasting difference. Preventive therapy through acupuncture is used on the back, hips, and legs, improving flexibility and easing stress on the joints.
5. Boosts Your Immune System
Last but not least, acupuncture helps boost your immune system. Through influencing and manipulating your energy flow through reducing blockages, acupuncture restores the necessary yin and yang harmony to your body. It is believed that when your energy channels are blocked or impaired, you are more prone to sickness and falling ill. The production of T cells in your brain can even be boosted by acupuncture, which in turn increases your white blood cell count when the needles entering your body and considered a threat by your body.
So in short, yes - acupuncture can and will improve your overall well-being. Even though the idea of needles in your skin may sound daunting, the needles do not hurt. Use this alternative, non-invasive technique for a variety of conditions, and see the results for yourself.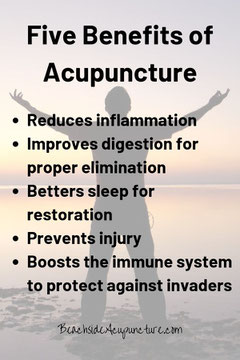 Laurie Larson is a freelance writer on the east coast who enjoys writing on home design, sustainability, and healthy lifestyle topics. In her free time, she spends as much time as possible exploring the outdoors one way or another.