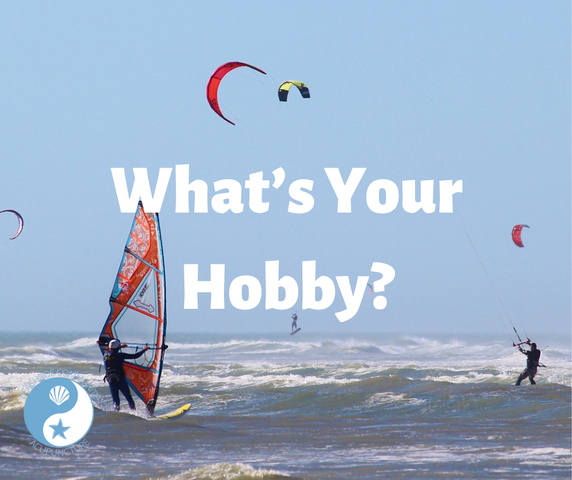 This post contains affiliate links, meaning Beachside Community Acupuncture PLLC may receive a small commission for purchases made through certain links at no additional cost to you. (In other words, you support us in a small way when you buy the products that we highly recommend and would use ourselves!) Click here to view our full disclosure policy.
What do you do for fun? That's an easy enough question, but it's much harder to answer it as an adult. When we're young we're naturally involved in a lot of different activities; as we grow up, time is consumed by work and other responsibilities. Fun becomes something reserved only for vacations and special occasions! Practicing hobbies brings the element of joy back into day-to-day life and ensures that "me-time" is always included in your schedule. If you haven't had a proper hobby since your childhood, read on to get some inspiration.
Get to Know Yourself First
If you know yourself well, you probably know which hobbies you might possibly like and which would feel like torture. For instance, picture yourself: A. Covered in dirt and sweat while you plant flowers in a garden, B. Feeling bass reverberate throughout your body as you jam out in a rock band, and C. Sitting in silence as your carefully count the stitches that you're knitting. Chances are good that at least one of these appealed to you...and at least one sounded awful! 
If you don't think you know yourself well enough to pick a hobby, answer these questions for guidance...
What did you like to do as child?
What activity always interested or fascinated you when you saw it?
What have you always wanted to do but were intimidated?
What can you see yourself practicing?
What do you enjoy doing in your day-to-day life?
What do you find yourself gravitating toward on social media?
If you still don't have any ideas, choose something that you think you maybe, possibly, potentially could enjoy, and try it out. Starting a hobby doesn't have to require a huge commitment - see "Get Started" below - and if you spend a small amount of money on something that you ended up not liking, view it as simply paying for an experience. 
Brainstorm Hobby Ideas
Hobbies can be active or meditative, intellectual or creative, practical or whimsical...or more often, a combination of all these things. Hobbies can also turn into something that you monetize, but don't think of them that way at first. For the sake of this blog, we're looking at activities that you do for the pure enjoyment of them. If they turn into something that you enjoy doing as a job, that's wonderful, but starting with that end goal can lead to more pressure and less fun. The following ideas are broken up into broad categories, though there will be overlap amongst them.
Athletics: martial arts, yoga, surfing, snowboarding, dancing, hiking
Arts: painting, carpentry, glass blowing, photography, musical instruments, pottery
Practical skills: knitting, cooking, baking, gardening
Intellectual pursuits: new languages, puzzles, reading, writing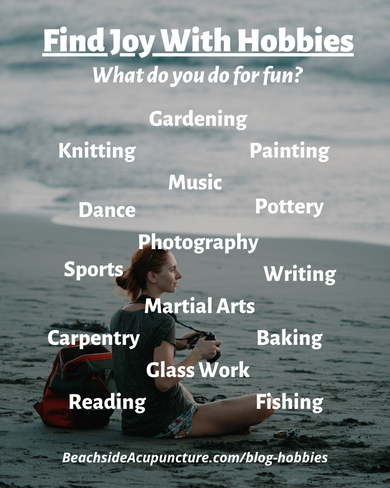 Get started
If you know that you 100% want to dedicate yourself to a particular hobby, go ahead and buy the best equipment or enroll for a long-term class. However, if you're only testing its waters, don't invest too much into it at first in case its not the right fit for you.
Get "coached" for free. Follow YouTube tutorials instead of taking a class; if you need to take a class, try a drop-in workshop instead of a full program.
Use what you already have. For instance, you more than likely already have a camera on your phone, so practice finding light and framing shots with that before purchasing a fancy camera.
Rent equipment. As an example, if you're not sure if you like skiing, rent all of the gear that you need instead of investing in your own. If you're interested in playing the guitar, check to see if you can borrow a friend's before buying one yourself.
Purchase the minimum amount of supplies. You may have dreams of knitting a complicated sweater, but as a beginner all you need is a pair of needles and some yarn to learn the basic stitches. If you envision yourself producing watercolor masterpieces, start with a small canvas, a cheap brush, and a few paint colors. To make it even easier for yourself, just buy a kit instead of the individual supplies.
Prioritize Your Hobby
Why do flight attendants tell us to put on our own oxygen masks before helping others? If we ignore their advice and try to work on everyone else's masks first, we will likely pass out and become someone who NEEDS help. On the other hand, when our mask is securely in place, we have all the oxygen we need to tend to all of those surrounding us.⁠ Self-care can be seen in the same way. Taking a bit of time for yourself to do something restorative may seem selfish in the short-term, but if you carry on without that break, you'll run yourself down to the point of no longer being able to help anyone else anyway.⁠ ⁠
Self-care has been a buzzword the past few years, and while having spa days and getting massages - and acupuncture treatments! - are important for health, we would argue that regularly incorporating fun into your day-to-day life is even more so. Hobbies break up the stress of daily life and give you the space to be active, creative, and meditative, all of which might not be regular components of your work. They insert joy into normal routine and provide you with space to learn more about yourself, validating your worth. We hope that this post gives you the motivation to find the activity that gives your soul spark!

Kathleen Ketola is a Licensed Acupuncturist and the owner of Beachside Community Acupuncture. She loves providing affordable acupuncture to the residents of Addison, Dallas, and Farmers Branch, Texas, and educating the general public on how acupuncture and Traditional Chinese Medicine can treat everything from pain to infertility to stress and beyond. Click "Book Now" at the top of this page to book an appointment or feel free to contact her at (214) 417-2260.