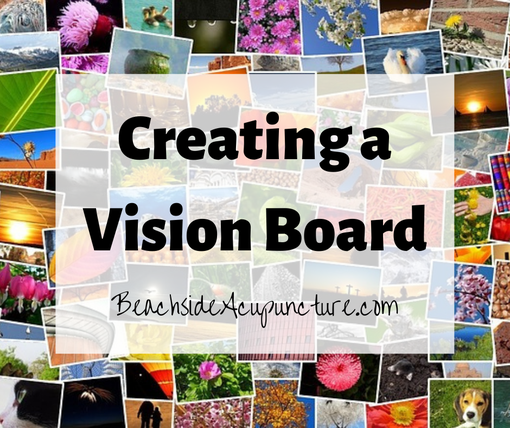 This post contains affiliate links, meaning Beachside Community Acupuncture PLLC may receive a small commission for purchases made through certain links at no additional cost to you. (In other words, you support us in a small way when you buy the products that we highly recommend and would use ourselves!) Click here to view our full disclosure policy.
We've discussed goal setting, visual cues, and the subconscious mind in separate posts, and a vision board is one way to meld all of them together. Creating a vision board is both easy and fun, and the finished product not only reminds you of your focus, but also stands as a beautiful piece of artwork for your home or office. You'll only need magazines, scissors, glue, a backdrop, and about one to three hours of time. Once you've gathered everything together, just follow the steps below!
1. Set Your Backdrop
Vision boards come in all shapes and sizes, and the materials you use will depend on how you want to display it. Start with some kind of background; you shouldn't need something too big, as the idea is to hone your intention on the few things that you'd really like to accomplish in a given time frame. A few ideas are:
Canvas: Purchase a blank canvas that would usually be used to paint a picture. (You can either paint a backdrop on it - keeping in mind much of it will be covered - or leave it blank.) This is the sturdiest option, and you can hang it on your wall as is.
Poster board: Choose a color or simple white, and cut it into any shape that you'd like.
Scrap book paper: This is our personal favorite because there are so many fun patterns available! If you decide to use any kind of paper, we recommend that you buy a simple frame to protect it and hang it more securely.
Construction paper or regular paper: If you're not interested in a fancy background, you can use any type of paper (or even other media). As long as glue sticks to it, it can function as a backdrop.
2. Set Your Intention
Think about what you want to accomplish, paying special attention to the imagery, emotions, and wording that your mind conjures as you visualize your wishes and goals. (While this is technically an optional step, taking a few minutes to do this will alert your subconscious to what you'd like to find as you look through magazines, just as you seem to see a brand of car everywhere once you start to consider buying one.) Make a list of these particular items, or at the very least keep them in the back of your mind as you start to put together your board. You may change your perspective as you discover others that call out to you in your magazines, but it's still a good idea to make sure you've got what you really want in your collage before you begin gluing. 
3. Dive Into Magazines
Keeping in mind the words and images that you choose from the previous step, flip through magazines looking for anything that calls to you. (Tearing out whole pages to cut later will make this part easier than cutting right from the magazine.) If you feel drawn to something that wasn't on your list, tear it out as well; your subconscious might be calling for something that your conscious mind didn't grasp.
Once you've gone through all of your magazines, look through the pages you have and cut out the pieces that you'd like to put on your board. Go with your gut and listen to your intuition! If you find that you ripped out the same word in different fonts or colors, choose the one that seems like the best fit for you. You may want to categorize your cutouts as you go - for instance keeping everything related to family in one area and work goals in another - and laying them spaced out will make them easier to sort through as you assemble your board.
4. Arrange Your Clippings
Now that you have all of your hopes and dreams spread around you in small pieces, it's time to put them together! There's no right or wrong way to assemble your vision board; arrange your clippings in any way that makes you feel inspired. It's okay if you can't fit everything that you cut out onto it - if anything, it will make you hone your vision even more - and having blank spaces is fine too. Move things around until they look exactly how you'd like them, and feel free to add extra decorations like stickers, ribbon, glitter, etc. if it makes you happy to do so. Recycle the used magazines and other scraps, and move on to the next step.
5. Glue Everything Down
Having your clippings laid out perfectly doesn't mean that they will look perfect after you've glued them down, so don't rush this step. You may want to take a photo of everything before starting if you're nervous, but usually moving slowly section by section is enough. Pay attention to which cutouts overlap, and secure the bigger background pieces first. Also be mindful of spacing if you are going to frame your board; you may need to keep the edges free lest the cutouts there get covered.
Note: We've found that using a glue stick gives a cleaner finished product, but you can experiment with tape, liquid glue, or other adhering substances.
6. Hang Up Your Vision Board
After your vision board has dried, all that's left is to find a home for it. Place it somewhere that you'll notice it every day, ideally in a spot where you can view it well and reflect on it. It's meant to be a beautiful reminder of what you want out of your life, a way to stimulate your subconscious to find opportunities to pursue the images and emotions produced by the board.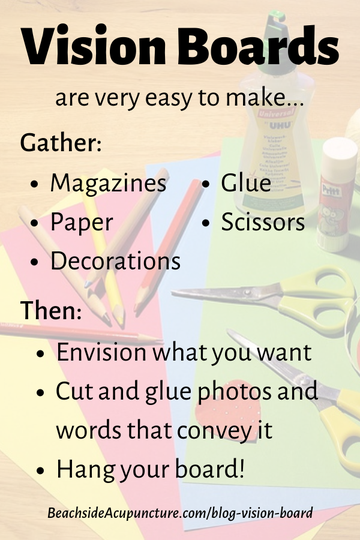 Physical vision boards are a great supplement to traditional goal setting exercises, but if you're not the crafty type or don't have room in your office or house to hang one, you can also create something similar digitally. Follow step two above and then search the internet instead of flipping through magazines, making a computer desktop background in Paint or Canva that you can see every time you log in. You can also start a Pinterest board containing images, words, and links that reflect your vision, keeping in mind that you'll need to visit Pinterest regularly to get the most out of it. There are many options that all amount to the same thing: Stimulating your deepest mind to strengthen your motivation to achieve your goals and the life you want for yourself.

Kathleen Ellerie is a Licensed Acupuncturist and the owner of Beachside Community Acupuncture. She loves providing affordable acupuncture to the residents of Addison, Dallas, and Farmers Branch, Texas, and educating the general public on how acupuncture and Traditional Chinese Medicine can treat everything from pain to infertility to stress and beyond. Click "Book Now" at the top of this page to book an appointment or feel free to contact her at (214) 417-2260.