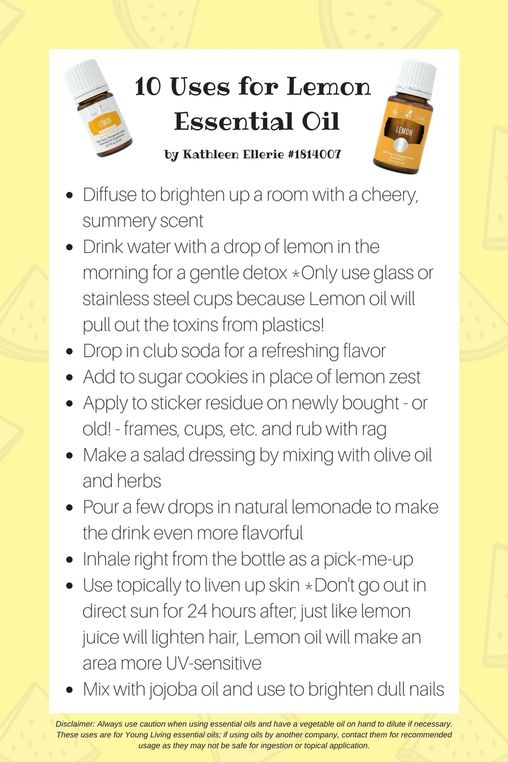 How many lemons do you think it takes to make one 5-mL bottle of Lemon essential oil? Five? Ten? Fifteen??? It actually takes TWENTY-FIVE. The next time you're at the grocery store and see the big stack of lemons, just picture them as one or maybe two bottles of essential oil!
Lemon essential oil is cold-pressed from lemon rinds and has many of the same benefits as lemon juice without the acidity (or stickiness). Just like lemon juice, Lemon oil can gently detoxify the body and can also be used to lighten and brighten nails and skin. Its cheery, clean scent makes it a classic to diffuse - we always have either Lemon or Orange oil in our diffusers at the clinic - and it makes a great "top note" to a chemical-free, oil-based perfume.
As we discussed with Peppermint and Lavender, Young Living's pure, therapeutic-grade essential oils have no artificial additives and are safe to ingest, so get creative with your recipes! Essential oils are very potent, so always start with just a drop and add more from there until you get the desired flavor. (For instance, we like 2-3 drops per tablespoon or two in our salad dressings but closer to ten drops when we make a batch of cookies.) It will take some time to find the perfect amount for your palate and figure out how much oil to add to each recipe, but once you have it, your taste buds and overall health will never be the same :)
For even more information on essential oils, please check out our sister site: www.oilisle.com

Kathleen Ellerie is a Licensed Acupuncturist and the owner of Beachside Community Acupuncture. She loves providing affordable acupuncture to the residents of Addison, Dallas, and Farmers Branch, Texas, and educating the general public on how acupuncture and Traditional Chinese Medicine can treat everything from pain to infertility to stress and beyond. Click "Book Now" at the top of this page to book an appointment or feel free to contact her at (214) 417-2260.